In a feeble attempt to wipe away memories of a certain football game, I spent the past hour or so wrapping Christmas presents. We're way ahead of ourselves this year with the shopping, in no small part thanks to the constant rain we've been having. If I can't put up lights, I figure we might as well do something Christmas-related
Alexis loves to "help" me with the wrapping. I suppose the fact that she has helped me wrap her own presents is going to take some of the surprise factor out of it all for her, but I refuse to care. I have the rest of her life to have to be sneaky with the gift buying and wrapping. Mostly she likes to help because she likes to paw and grope other people's presents. She's quite convinced that several packages that are clearly marked with other names are going to somehow end up permanently in her possession.
That is where the guilt sets in. We have not bought her a single thing for Christmas this year. Not a one. Sure, she has plenty of packages under the tree, maybe too many. But not a single one of them was an item that was bought just because of the holiday season. She has a Gap outfit that I bought last month because the jeans, sweater, and shirt were on clearance and cost a whopping $21 all together. I wouldn't have passed that by regardless of the circumstances. But since she's not currently hurting for clothes to wear, I tucked them away and declared them "Christmas." There is a pair of Dora pajamas that Daddy found on sale. When he tried to put them on her one night, I ripped them from his hands and called them "Christmas" as well. She's also got about ten books under the tree. Every single one of them was at TJ Maxx on clearance for $3-$4. I would have bought just as many of them in July as I did Thanksgiving weekend. I proceeded to hold them aside for gift-giving.
Probably her biggest gift is going to be a whole bunch of new Signing Time DVDs. If we're being honest, those are absolutely a gift for the adults in the house. As much as we love the all of the songs from the episodes she already owns, it's SO time for some new music. With a long car trip to Indianapolis in the near future, I guarantee I'll be busting those suckers out for the drive. She can happily stare at her portable DVD player along the way and we can enjoy the sounds of music we have never heard before. She'll be excited, but trust me, I'm more excited. They are brand new episodes that were just released on December 3rd. I would have bought them no matter what.
Notice the lack of actual toys? There is one doll under there, but only because it was on clearance for $7. Other than that, she's out of luck. No toys for Alexis. I'm mean like that.
The good news is that the girl has oodles of Grandparents that will likely come through for her in the toy department. If they don't, we'll be hitting the clearance racks and making sure she gets a toy-filled birthday next month. That is, after I go through all of her current toys and donate a few boxes of them to Goodwill. We do it every Christmas, and it's one tradition that doesn't make me feel guilty at all.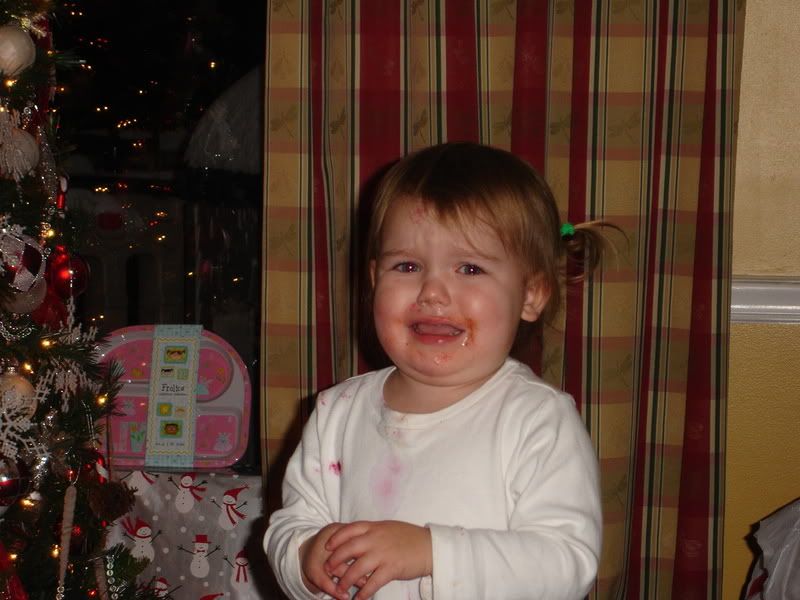 If you need a pick-me-up after that game like we do, go play this. Kicking Tom Brady's butt will make you feel a tiny bit better, I promise.

Sunday, December 9, 2007
|

23 Comments