The weather today was beautiful and Alexis got to spend her afternoon outside playing in the yard. I hooked her up with a cheap plastic lawn mower and some garden tools and we set out for the front yard to plant some violas. Three neighbors stopped to say "hi", all of which she ignored. Funny how when we go to the mall or grocery store she waves, blows kisses, and says "hi" to everyone in sight, but in her own yard she clams up.
The highlight of the afternoon, in my opinion, was the moment when Alexis got over her fear of dirt and grass. She fell in the yard and got up all by herself. Before, she would have sat with her hands in the sissy girl position waiting for me to help her. Later, she actually stuck her hands in some dirt and mushed it around. She kept going back for more dirt to mush, so I think we may be over the "I must not touch anything which may tarnish my gorgeous little hands and nails" phase.
So how's this for a little like Father, like Daughter moment . . .
Comfy chair . . . check
Big screen TV . . . check
Remote in hand . . . check
Feet up on furniture they shouldn't be on . . . check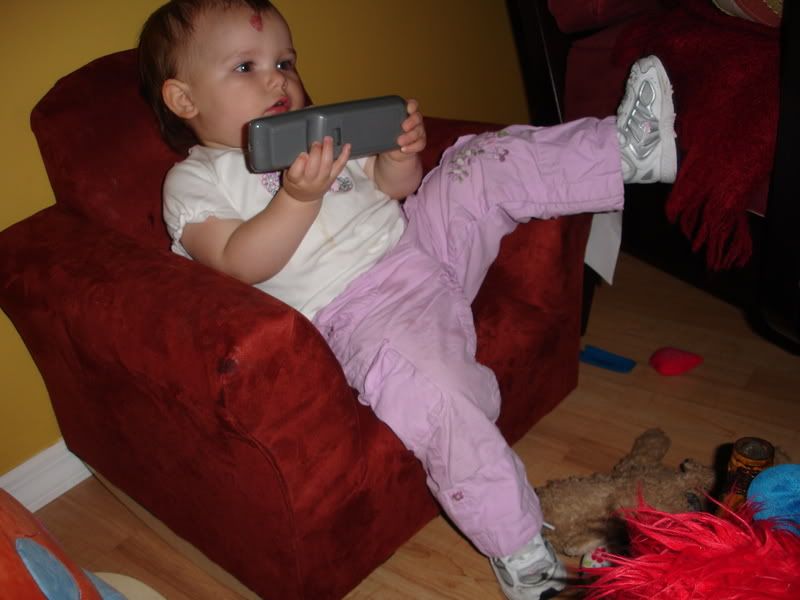 Thursday, April 19, 2007
|

Post a Comment