Alexis and I are traumatized. Severely traumatized. I had a ticket to go to the Pirates game tonight as part of a work function. The plan was that Daddy was going to hang out with Alexis at home while I went, but then he got stuck at work until 8:30. So she went with me.
Alexis' trauma came in the form of a 7-foot tall nasty looking pirate thing. For whatever reason, the Bucs have two mascots. The Parrot is cool, the other one is frightening. Actually, make that he's Frightening with a capital "F." Not only that, but his body is possessed by a moron. Picture if you will, a content one-year old lounging in her Mom's arms. Then picture what would happen if a dummy in an enormous, gaudy costume suddenly ran up and started tickling that one-year old. Shrieks of laughter? Shrieks of terror? Shrieks of "you moron, don't touch my kid?" Let's just say there was no laughter.
My trauma came in the form of about two dozen serious make out sessions between Alexis and my friend's one-year old, Peyton. It started out with Peyton just kissing everyone, but Alexis decided she LIKED the kisses and the two of them spent the rest of the evening pretty much acting like a couple of teenagers. I have never seen so much tongue action. So I guess that "you're not dating until you're 35" thing isn't going so well.
Here are the lovebirds in action. The captions just sort of write themselves.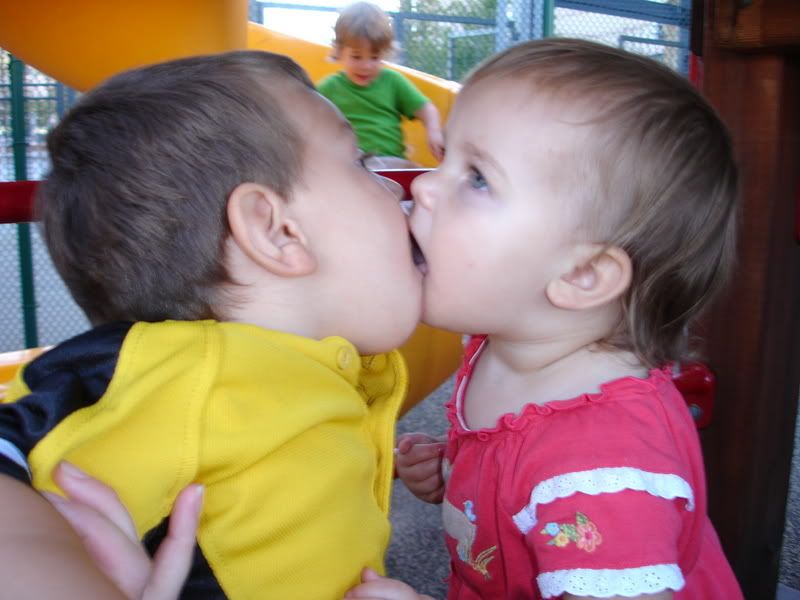 Friday, July 20, 2007
|

3 Comments