Our driveway? Is full of more obstacles than an episode American Gladiator. The poor little Toddler couldn't walk into the house this evening because there was snow in her way. She stood and stared. And stared some more. And stared some more, in search of some way of getting around the vast chasm of doom.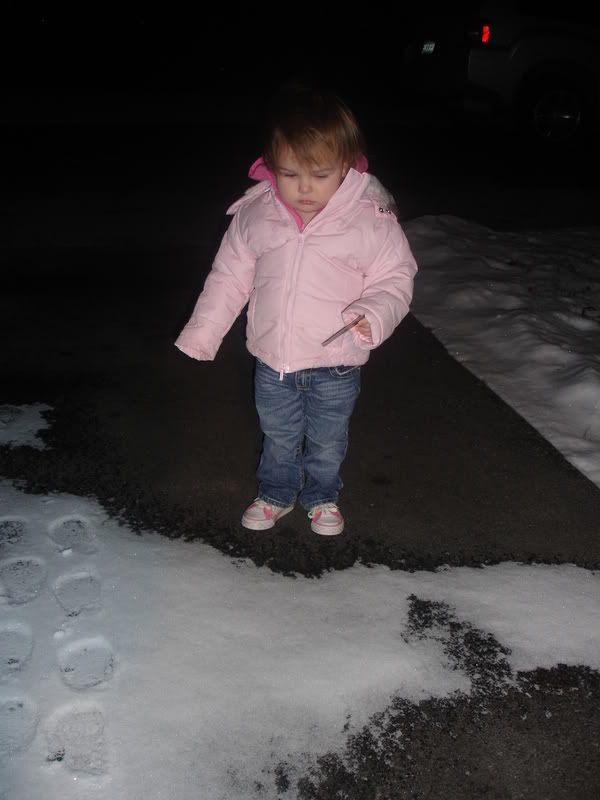 When she realized that I really wasn't going to rescue her (since I was too busy photographing her misery), she wondered, what happens when a teensy little corner of your tennis shoe touches a itty bitty flake of snow?
I'll tell you what does not happen. The world does not end. Your shoe does not spontaneously combust. Glass shards do not become embedded in your eyeballs. Cockroaches do not crawl into your ears. Fire does not shoot out of your nose. Your pants do not fall off. Worms do not slither up your legs. Rabid rats do not gnaw on your knuckles. Snakes do not slither down your back. Ants do not take up residence in your diaper. Bacteria does not eat your flesh. Battery acid does not seep out of your tear ducts. You don't even fall over dead. Yesterday? Every single one of those things happened simultaneously when the Toddler was faced with the exact same dilemma. Today?
The screams didn't start until I had to drag her glove-refusing, hat-hating butt into the house before she froze her tootsies off.
I'm sure tomorrow she'll go back to fearing all things snow. Which is good, because I was hoping to use her snow phobia as an excuse to spend winters in Florida.

Thursday, January 24, 2008
|

36 Comments